Latest News
With the holidays fast approaching now is the time to book your party at Taps or Olive, 2 bars 1 location. Olive Martini Bar is a perfect choice for an intimate gathering of up to 75 people. Olive hosts an entire staff dedicated to making each event uniquely perfect, and most of all, fun! Please feel free to contact us with any questions or stop by and enjoy a drink and check us out.

Olive has it very own unique Tapas menu which is sure to please. Also available is the full menu from Taps Pourhouse & Eatery.
New Years 2014
Two Bars, One Destination! Join us New Years Eve at Olive and Taps Pourhouse & Eatery. Live music with Pluto For Planet starts at 10pm at Taps and a Live DJ at Olive. Come start your New Year right with us!.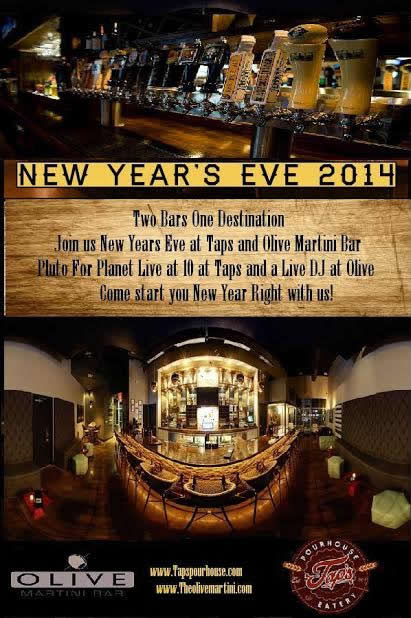 The Experience
With its creative cocktails and its imaginatively chic decor, the Olive Martini offers its a patron an atmosphere unlike any other with a classic yet relaxed theme. Offering a diverse cocktail menu which includes a variety of handcrafted specialty martini's and signature cocktails made with in house infused vodkas, Olive offers a little something for everybody.